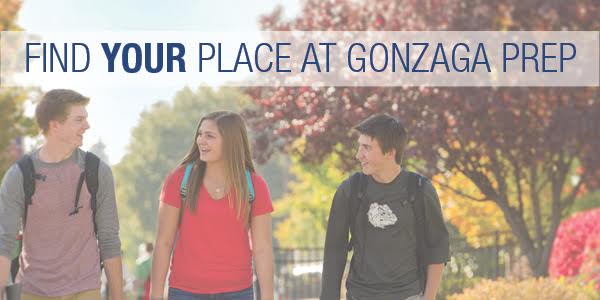 APPLICATION INFORMATION FOR APPLICANTS
TO THE FRESHMAN CLASS
CLASS OF 2023 -- FALL 2019 MATRICULATION
Limited space is still available!
Please complete all items as soon as possible to be considered for admission.
Below is the process for freshman applicants:
2. Create account. A temporary username and password will be sent to the email provided.
**If you currently have a student at Gonzaga Prep, please log in to Skyward Family Access and click "Gonzaga Prep Application" to complete the application.**
3. Login to Skyward using the temporary password and username.
4. Complete the following information to submit the application:
- School Information
- Activities, Athletics, and Awards
- Relatives & Sibling Information
- Religion Information
- Parent Statement & Signature
5. Click "Submit to District"
***It is easiest to complete the application in one sitting, which should take 20 minutes.***
If you log out and complete at a different time, you will need to re-open each step and click "complete" before moving to the final portion of the application.
Please give this form to a teacher, counselor or principal to complete. The school should send the form, along with 7th & 8th grade scores and standardized tests directly to Gonzaga Prep (email, fax or mail is acceptable).
Please contact the Admission Office to schedule the Placement Test. The Placement Test is administered during our office hours (M-F, 8:00 - 3:00). The test takes three hours and must begin before noon.
The Placement Exam is $25. Please bring a check or cash at the beginning of the exam.
Gonzaga Prep proctors the High School Placement Test (HSPT). There are five sections on the HSPT: Verbal Skills, Quantitative Skills, Reading, Mathematics, and Language. For more information regarding the test, please visit
www.ststesting.com/hspt/
To best prepare for the Placement Exam, click
this link
.
Questions?
Please contact the Corrina Kelsey, Admission Director, at ckelsey@gprep.com or (509) 777-8122.
ADMISSIONS POLICY
Gonzaga Prep assists families in providing opportunities for the balanced Christian development of their children. Serving the Catholic community, as well as those who share its philosophy and values, the school admits students who are judged to be qualified to complete the four-year high school program. The focus of the academic curriculum is college preparatory, though programs are available for those students needing further assistance in their development of learning and basic skills. Our goal is to help each young person to develop to his or her potential academically, spiritually, physically, socially, and culturally. Gonzaga Prep is committed to enrolling students who have the potential as well as the motivation to achieve in the Gonzaga Prep program. Gonzaga Prep admits students of any race, color, or national or ethnic origin.
Experience has shown that the best criteria for selection of students consists of a combination of the following:
academic ability and performance in junior high school course work
results of the entrance/placement exam given at Gonzaga Prep
recommendations and evaluations from teachers, counselors, or administrators who know the applicant well
Accepted applicants will be notified in early February. We have room for 250 freshmen - for the class of 2023. All applications completed by the above dates will be processed together and determinations mailed in February. Applications completed after December 9th will be reviewed and processed on a space available basis.