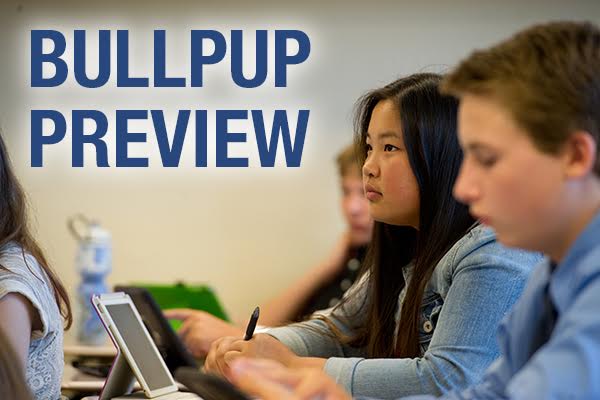 All prospective 8th graders are invited to spend a day on campus. This is a great way for 8th-grade students to get an inside and accurate look of what it is really like to be a G-Prep and high school student. Shadowing is not a mandatory part of the admission process, but it is a great opportunity to spend some time on our campus.
If you have any questions or are interested in a Bullpup Preview, please contact Katie O'Brien, Admission Director, at
kobrien@gprep.com
2019 BULLPUP PREVIEW DATES
| | |
| --- | --- |
| SCHOOL | BULLPUP PREVIEW DATE |
| St. Thomas More | Monday, October 28th |
| Public School* | Friday, November 1st |
| St. Aloysius | Monday, November 4th |
| Assumption | Tuesday, November 5th |
| All Saints | Tuesday, November 12th |
| Cataldo | Friday, November 15th |
| St. Mary's | Monday, November 18th |
| Trinity & St. John Vianney | Tuesday, November 19th |
| St. Charles and Holy Family Coeur d'Alene | Monday, November 25th |
| Public School | Tuesday, November 26th |
BULLPUP PREVIEW FREQUENTLY ASKED QUESTIONS:
What happens on a Bullpup Preview?
We match each 8th grade student with a current sophomore Ambassador and the student shadows the Prep student for the day. The 8th grader attends six classes and an informational session so they can get learn all about what it's like to be a Bullpup.
What time should I arrive and where do I go?
Please arrive by 7:45 AM and meet in the Chapel (school begins at 8 AM). The parking lot can be a bit hectic in the morning, please plan for a few extra minutes to navigate our parking lots. It is not necessary for parents to accompany their 8th grader into the Chapel.
Where do I park?
Parents can follow the flow of traffic and drop their 8th grader off at either the east lot or west lot drop zone. If a parent prefers to walk the 8th grader in, please park in our visitor spaces in the east lot. These spaces are located at the southwest corner of the lot (closest to the main doors). Parking spaces with numbers are assigned to faculty and students.
What do I need to bring?
8th graders need to bring either a sack lunch or money to purchase lunch in the cafeteria (roughly $5.00). Students are welcome to purchase breakfast items during our break (9:35am) as well.
What do I wear?
8th graders can wear whatever they like as long as they are in dress code. Boys can wear jeans or slacks (no sweat pants or basketball shorts) with a belt and t-shirt or sweatshirt. Girls can wear jeans, pants or skirts (skirts must touch the top of the knee) with a shirt, sweater or sweatshirt. Please no holes, offensive logos or sayings or tank tops. Hats are not allowed and students are not allowed to wear hoods during the school day.
What time should I get picked up?
The day ends at 2:30 in the Chapel. Parents can either wait in their car for their student or in the foyer of the Chapel.
If you have more questions or are interested in a Bullpup Preview, please contact Katie O'Brien, Admission Director, at
kobrien@gprep.com