SUMMER EMPLOYMENT & INTERNSHIPS
SUMMER PROGRAMS
*Gonzaga Prep is not endorsing the following programs. Rather, program information is listed here to give students many options to explore when seeking either academic enrichment or service learning opportunities.
Hillsdale Summer Opportunities
Hillsdale College offers summer opportunities to study abroad and earn college credit. For more information or to apply, please email
summerprograms@hillsdale.edu
We have something for everyone, college credit courses for high school students, a dance intensive for middle schoolers on up, and sports camps for elementary school kids on up.
Creative high school students develop their cinematic and journalistic storytelling skills producing films, videos, multi-camera productions and more at
Boston University's
Academy of Media Production
.
"AMP was
immersive
,
exciting
and
challenging
- I never imagined that I would learn so much, work so hard and have such a blast."
Boston University
Now in its 10th year, the New England Center for Investigative Reporting will continue to host its Boston University Summer Journalism Institute. By Making Boston Their Beat, our program offers students an opportunity to build a solid foundation in journalistic writing and become better storytellers while reporting the facts.
Based at Boston University's College of Communication, students will attend a college-level writing class in the morning. In the afternoon, they are assigned to newsrooms to work withaward-winning journalists, such as Pulitzer winner Lara Salahi, as their editors to cover different stories – entertainment, politics, sports, metro and investigations – in the Boston area. Evening events range from guest lectures from local journalists at The Boston Globe Spotlightteam, WGBH, and WBUR, to tours of historic sites and museums such as Fenway Park and the Museum of Fine Arts.
Our two-week workshops begin on June 24, July 8, and July 22. At the end of each session, your student will walk away with:
Articles to add to their professional portfolio;

A unique experience to write about on their college application essay;

New friends;

An appreciation of journalism and the confidence to use their voice to tell stories in their communities.
We accept applications on a rolling basis, but strongly encourage students to apply early to secure their seat.
Limited financial aid is available for students who demonstrate financial need; an application for financial aid is emailed to students once they are accepted into the program. The deadline to apply for financial aid is April 1, 2019. We also have a special $400 discount offer for students who register and pay by March 15, 2019
For more information about our program, visit our website and our FAQ section.



We specialize in curiosity.
Case Western Reserve University's Pre-Collegiate Summer Programs fully immerse ambitious high school students in a college curriculum, conversations and activities.

June 23 - July 13

Application deadline is May 1 for U.S. citizens and April 15 for international students.
Review of applications begins March 1.
Learn more about the curriculum, program costs, and how to apply.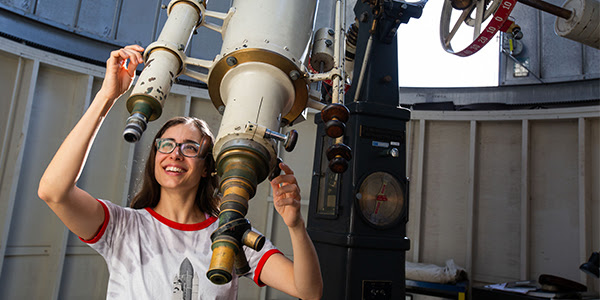 Imagine Science
Sharpen your research chops alongside top scientists in their labs. Work in cutting edge labs with the opportunity to publish your findings in our science journal.

Research the future →
Innovation and Entrepreneurship
Dream, design and build in the largest open-access innovation center at any U.S. college. You'll learn a lot along the way!

Make it here →
Social Justice
Find out how to change the world, one action at a time. Examine the root causes of social injustice, using scholarship and dialogue as your tools.

Change the conversation →
Women in STEM
Ready to find your perfect role model? Refine your technical and professional knowledge of STEM fields by following in the footsteps of giants.

Meet your mentors →
(C) 2019 Case Western Reserve University, 10900 Euclid Ave., Cleveland, Ohio 44106
216-368-2000 (legal notice)
Duke University Summer Session's 2020 Programs NOW LIVE!
Saint Mary's College(Notre Dame, IN) Summer Theology Institute for high school girls
The Embody Institute will take place July 7-12 and July 14-19 at Saint Mary's College in Notre Dame, Indiana. Visit saintmarys.edu/Embody to learn more about this program directly.
Ever to Excel at Boston College
Ever to Excel invites students from around the world to live Jesuit spirituality and explore Boston College. This year's program will be held from July 28 - August 2, 2019.


Last year, 165 students attended. The five-day experience explores Jesuit spirituality, leadership, service, and education. Students will deepen their faith, engage in conversation, reflect, consider community service, and explore the city of Boston.


This unique experience will spark creativity and reflection among participants while encouraging them to deepen and explore their interior lives.
Fir Acres is a two-week residential summer creative writing program for talented 10th-12th graders. The application deadline is March 8, 2019. Apply at GO.LCLARK.EDU/FIRACRES
NYU's varied array of high school programs offer flexibility and options that can be tailored to your individual needs and schedule. Most programs are offered during the summer, but there are options for weekend workshops during the fall and spring. Application processes, requirements and deadlines are varied; as are housing and financial aid offerings.
Princeton welcomes 35-40 high school juniors (rising seniors) from low-income backgrounds every summer to Princeton's campus for an intensive, 10-day seminar on journalism. The program's goal is to diversify college and professional newsrooms by encouraging outstanding students from low-income backgrounds to pursue careers in journalism.
During this two-week, residential learning experience, you'll gain an understanding of the foundations of leadership, assess your leadership behaviors to determine your preferred leadership style, discover the five practices of exemplary leadership, and create a personal leadership development plan.
Tulane University Pre-College Summer Program
From a shortage in STEM professionals to cultivating health care leaders of the future to informing the next generation of talented historians, Tulane University understands that the world is facing some big challenges. In order to inspire the next generation to tackle these complexities, Tulane offers exceptional students an opportunity to participate in a Tulane Summer Program.
University of Alabama Summer Programs
The University of Alabama offers a variety of fun and intriguing summer programs for students of all ages.
University of Miami Summer Scholars Program
The University of Miami summer scholars program provides high achieving sophomores and juniors with the opportunity to earn six college credits in three weeks and receive a tuition savings of more than half of the standard UM undergraduate cost per credit. The dates are July 6-July 29, 2019.
To apply, please visit www.miami.edu/ssp.
Wellesley Pre-College Summer Programs
Wellesley College invites motivated female high school juniors and seniors to join a unique, immersive college experience. For four weeks each summer, students will have the opportunity to become members of the Wellesley community, taking courses with college students while earning full college credit. Students will also enjoy academic, social, and intellectual opportunities that cannot be found in a high school program.
Brown University Pre-College Programs
Ivy League Academics for Students in Grades 7-12 - Each summer, students from around the world choose Brown University Pre-College Programs to prepare for college success, and to experience the challenge of college-level academics. Brown Pre-College is committed to the ongoing work of building a diverse, inclusive and equitable learning community where differences are valued and respected.

Boston University Summer Term
The pre-college and youth summer programs at Boston University allow middle and high school students the opportunity to gain valuable academic experience, enhance their existing skill sets, and have fun over the summer.
George Washington University Summer Programs
High school students in the Pre-College Program spend a summer in Washington, D.C., taking advantage of GW's expertise in global development, international relations, public policy and administration, politics, diplomacy, history, biomedical engineering, museum studies and the arts.

Duke Summer Sessions
Students hoping to gain academic credit from renowned Duke faculty or interested in engaging deeply with a particular subject; hoping to spend a summer enjoying residential activities on Duke's historic West Campus; and seeking to prepare for college and to create an international network of peers should see what is available at Duke.
University of Notre Dame Pre-College Programs
Notre Dame is a place to enrich your mind, body, and spirit. While providing students with a world-class academic environment, there is a strong sense of community that pervades the campus and it can only be understood through experience. As a participant in one of Notre Dame's Pre-College Programs, you'll experience both. You'll learn under the instruction of Notre Dame faculty, live in a Notre Dame residence hall, eat in the dining halls, and serve in the community. As you do, you'll be challenged intellectually and enriched socially.
Hillsdale College High School Summer Study and Travel Programs
High School Summer Study and Travel programs offer rising high school sophomores, juniors, seniors, and college freshmen the opportunity to earn three college credits from Hillsdale College while traveling to cultural and historic destinations domestic and abroad. Two-week travel courses begin with time on campus studying with Hillsdale College faculty, after which study continues on site.
USC Summer Programs extends a tradition of excellence to outstanding high school students through unique 4 and 2 week summer courses. Accepted students to the USC Summer Programs will balance academic and campus life as they prepare for college in the nation's entertainment center – Los Angeles, California.
Bovard Scholars are high achieving juniors in high school with financial need applying to selective universities and seeking admission counseling. The application deadline is Friday, February 15, 2019 at 5:00pm PST.